LOST VAPE CENTAURUS DNA BOX MOD vs Vapelustion Hannya Mini Box Mod
Category: Shopping
by vaporm vaporm
2020-07-25
27 Views
LOST VAPE CENTAURUS DNA 250C BOX MOD
The lost vape dna mod is powered by 2pcs 18650 batteries(sold separately), with classic design appearance, combined with multiple types of materials for an exquisite look. Lost Vape Centaurus DNA 250C mod is equipped with Evolv's high-end DNA 250C chipset, the maximum output power is 200 watts, with high precision and ultra-fast response time. Included with the Centaurus mod functionality is Boost Mode and Replay Technology. The USB port can be used for 2A balanced fast charging and can also be used to connect to PC with available software Escribe. This way you can make individual settings and analyze and monitor steam behavior. With the USB On-the-Go adapter, you can also use the battery as a power bank while on the go. The device has a handy 0.91 inch TFT display screen to easily read out the essential parameters. It also has a 510 Thread and can be used in combination with many atomizers.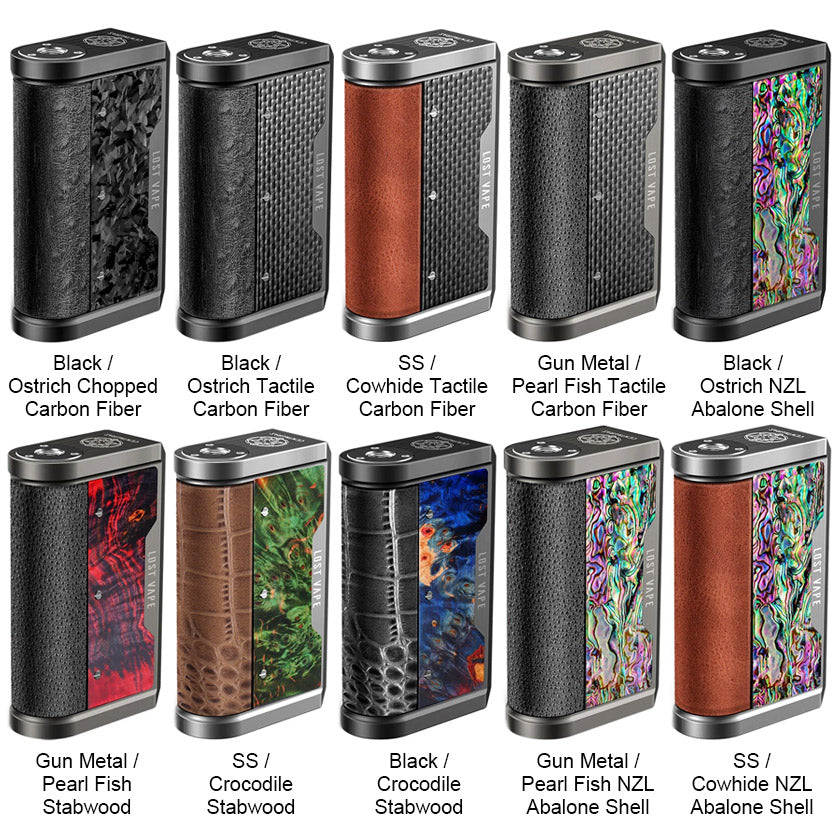 Technical Data:
Dimension: 91x55x26mm
Battery: Dual 18650 Battery (Not Included)
Chipset: Evolve DNA 250C
Power Range: 1-200W
Modes: VW / TC(Ni80, Ni90, Ti, SS316) / TCR / Bypass
Screen: 0.91 inch TFT color display screen
Temperature Range: 200°F-600°F
Coil Resistance supported: 0.1Ω-3.0Ω
Coil Material supported: Nickel, Titanium, SS316, KA1, Ni80, Ni90
Body Material: Stainless Steels / Leather
Software: Escribe
Charging Port: Micro USB
Charging Current: 2A
Thread: 510

Package Includes:
1× CENTAURUS DNA250C BOX MOD
1× USB Connecting Cable
1× USB On-The-Go Adaptor
1× Warranty Card
1× User Manual

Vapelustion Hannya Mini Box Mod
The vapelustion hannya mini uses the aluminum-alloy body for lighter and comfortable feel. Powered by single 18650 battery, Vapelustion Hannya Mini has a maximum output power of 80W. The Hannya Mini is equipped with a 0.96 inch OLED screen to display the detail vaping information and it supports VW/ TC (Ni/Ti/SS)/ Bypass modes to satisfy different commands. And the Vapelustion Hannya Mini Box Mod comes with 510 stainless steel interface which is compatible with most atomizers of market. Just get the Vapelustion Hannya Mini device and enjoy the amazing smoke feast.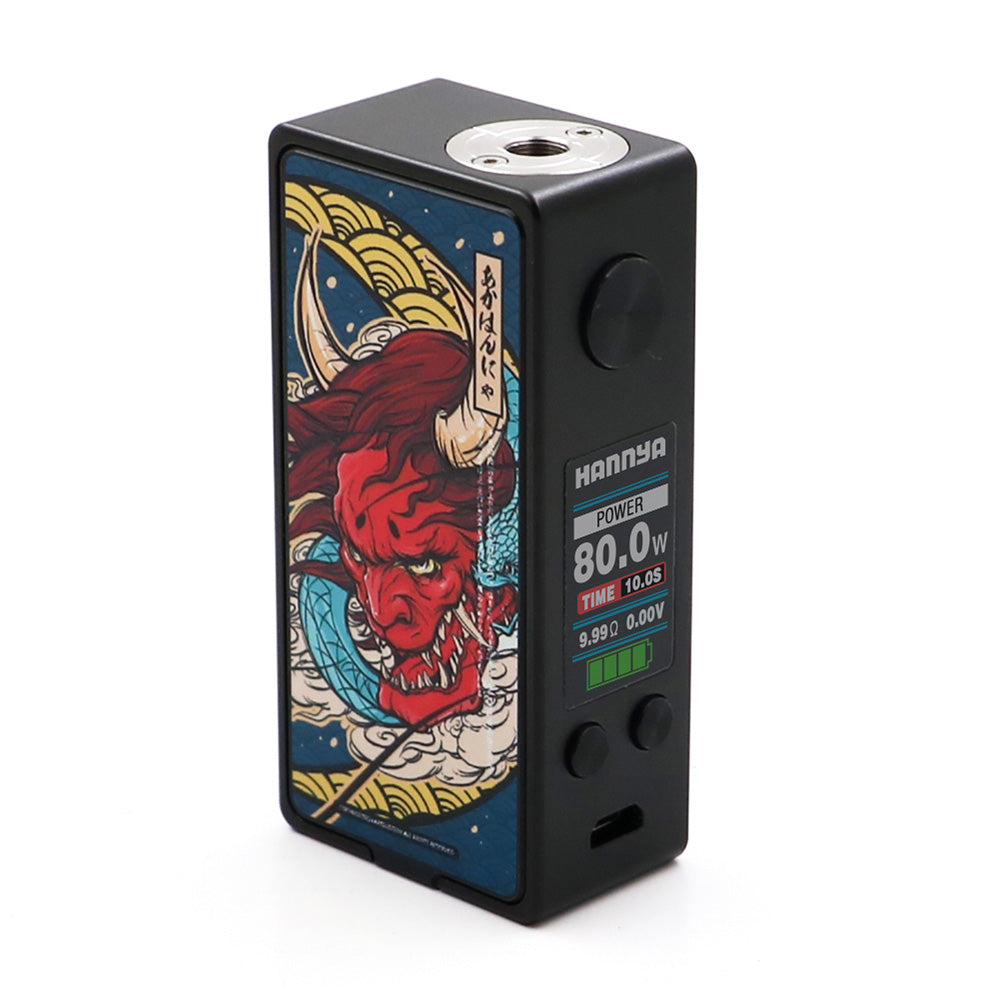 Technical Data:
Size: 82 x 40 x 25.8mm
Battery: 1×18650 cell (not included)
Material: zinc alloy frame, plastic battery compartment, stainless steel 510 universal interface
Output power: 1-80W
Output voltage: 0.1V-8V
Input voltage: 6.4V-8.4V
Output current: 40A
Atomizer resistance: 0.1ohm-3.5ohm
Charging voltage: 4.8V-6.5V
Special function: Support bypass mechanical mode
Display size: 0.96 inch LCD

Package Includes:
1 x Vapelustion Hannya Mini MOD
1 x USB cable
1 x User manual

Find other best mod, visit our VaporMo website
wotofo dyadic squonk mod
pioneer4you ipv v-it
dovpo odin mini dna75c box mod