UWELL CROWN 4(IV) 200W TC KIT vs VOOPOO DRAG 2 PLATINUM EDITION KIT
Category: Shopping
by vaporm vaporm
2020-07-24
24 Views
UWELL CROWN 4(IV) 200W TC KIT
The uwell crown 4 kit is the latest product with exquisite craftsmanship design and fashionable looking, which consist of a Crown 4 tank with a Crown 4 mod. The Uwell Crown IV Box Mod is powered by dual 18650 batteries and is capable of 200W max output. It support regular power mode and temperature control mode that can extend span life and protection. Equipped with the new generation of UWELL circuit board is more dust and corrosion resistant, with unique baroque pattern design, the Crown 4 mod gives you great visual experience. UWELL Crown IV Mod features exquisite craftsmanship with ingenious details, the anti-slip silicone bottom prevents your mod from sliding off on surfaces. There is a fire button on the mod that gives a sleek look and provides improved gripping. Uwell Crown 4 Tank holds up 6ml e-juice capacity and 5ml straight glass for you option. The biggest highlight of the Crown 4 is the advanced patented self-cleaning technology, the Uwell Crown 4 can absorb the e-juice in the condensation holder through regular usage and vaporize it. Moreover, Crown IV Sub Ohm Tank utilizes UN1 Coil with 0.25ohm rated at 55W to 65W, and the UN2 Coil 0.23ohm with an output range 60W to 70W. The double helix coil design heats evenly and fully that gives the good flavors. In a word, the Crown IV kit is a wonderful vape kit that can satisfy great vaping experience and visual enjoyment for you at the same time.




Technical Data:
Crown 4 mod
Size: 52.5 x25 x 84mm
Power range: 5-200W
Standby current: <50uA
Voltage range: 0.7-8V
Temperature range: 200℉-600℉/100℃-315℃
Material: Zinc Alloy & PC & ABS & Aluminum
Crown 4 tank
Tank Size: 28x 54.8 mm
Capacity: 5ml + 6mI(Bulb)
Material: Zinc Alloy & Stainless Steel & Glass & Silicone
Power Range: 5-200 W
Coil type:
Dual SS904L Coil 0.2ohm (70-80W)
Dual SS904L Coil 0.4ohm (60-70W)
SS304 UN1 Coil 0.25ohm (55-65W)
FeCrAl UN2 Coil 0.23ohm (60-70W)
Color: Blue, Red, Sliver, Green, Gold, Purple

Package Includes:
1 x Crown IY Mod
1 x Crown IV Tank
1 x Spare Glass Tube
1 x0.4ohm Coil (Pre-install)
1 x0.2ohm Coil
1 x Pack of Replacement O-rings
1 x Micro USB Cable
1 x User s Manual

VOOPOO DRAG 2 PLATINUM EDITION KIT
The voopoo drag 2 is a brand new version of Drag 2 kit. This Platinum Edition is equipped with non-fading & scratch-proof platinum shell, which makes the starter kit more exquisite and high-end. It also adopts innovative GENE.FIT chip inside to fit your security. The FIT mode can protect tanks to intelligent matches of FIT1/2/3. The Drag 2 Platinum mod is employed with solid specular finishing and new resin plates, gives you smooth and comfortable hand feeling. It also lighter than original drag 2. The new Uforce T2 tank is compatible with U2/U4/U6/U8/N1/N2/N3/R2/D4 coil.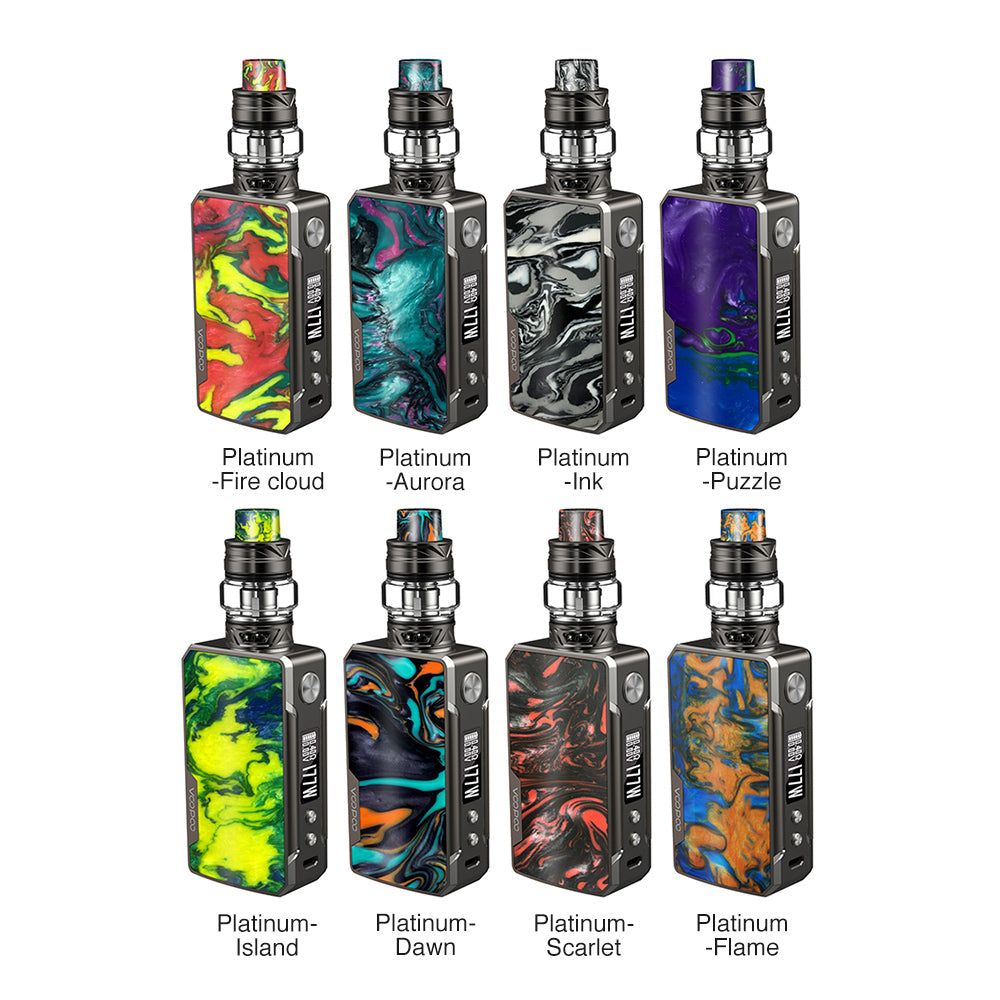 Technical Data:
Size: 88.3*51*26.5mm
Battery Type: 2* 18650 battery
Tank Capacity: 5ml
Max wattage: 177W
Resistance Range: 0.05-5ohm
Working Current:1-40A
Output Voltage Range:0-7.5V
Temperature Range: 100-315℃/200-600℉
Thread: 510 Thread
Material: Stainless Steel+ Resin
Package Includes:
1 x Drag 2 Platinum Kit
1 x User Manual
1 x GENE Chip Card
1 x USB Cable
1 x Warranty Card

Find other best kit, visit our VaporMo website
eleaf ikonn 220
smok v-fin